Ralph as been going to Dishy Dogs…
Ralph as been going to Dishy dogs since he was 6months old , he's now 6yrs . Tracey always listens to what style cut you want. I love the fact it's only 1 dog at a time and always spotlessly clean..
Thankyou
I have known Tracey for over 10 years…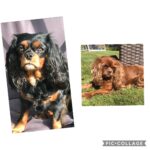 I have known Tracey for over 10 years she used to come to our family home and groom our dogs. We have always had Cavalier King Charles Spaniels and as they come with many health issues Tracey was the only groomer my Mum would trust.
When I left home and got my own Cavaliers I knew I would only use Tracey, she is absolutely brilliant with my girls and knows them inside and out. Honey is completely deaf and Tracey knows exactly how to settle her and make her feel safe. I would highly recommend Dishy dogs to anyone as Tracey really does treat the dogs in her care as her own. Thank you Tracey x
I have a nervous Jack
I have a nervous Jack Russell who has never enjoyed being groomed. Since taking him to Tracey he's a calm happy boy , and always comes out looking amazing 🤩. She is patient and gentle, her love of dogs shines through every time .
I have a nervous little girl…
I have a nervous little girl, who now loves to visit Tracey. Fantastic parlour, very clean. Tracey is so friendly and great at her job. I'm sure she prefers dog's lol. She has looked after my Boo and made her less nervous. Highly recommended 😊
Would you like to give us some feedback and appear on our website? Please feel free to submit your experience below, you can even add a picture of your fur baby(s) if you'd like to!