Her first full groom!
Poppy went to Dishy Dogs today for her first full groom and so pleased with the results! Thank you Tracey 😊
Tracey has been grooming my..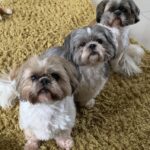 Tracey has been grooming my 3 Shih Tzus for over 3 years, I wouldn't go anywhere else & I recommend her to anyone looking for a groomer.
My dogs are so at home they even know where the treats are stashed !
(Picture is before their fur cuts)
Highly recommend 🌟🌟🌟🌟🌟with a nervous Chihuahua
Highly recommend 🌟🌟🌟🌟🌟with a nervous chihuahua Tracey has that magic touch to put him at ease I know his in the best hands while I leave him at dishy -Dogs .
Tracy always does a wonderful job!
Tracy alway does a wonderful job. I have a Cavachon and a Cockapoo, one is super anxious and the other is super protective. She knows just what to do to keep them both calm all while providing a beautiful groom. Her love for all of the dogs she sees is plain to see and she always has a smile for everyone who comes in. Love everything about It here! Highly recommended.
Would you like to give us some feedback and appear on our website? Please feel free to submit your experience below, you can even add a picture of your fur baby(s) if you'd like to!